Well, in today's world who is not aware of the Aloe Vera and its budding behavior. Aloe Vera has uncountable uses and benefits, prior one should be aware of how to make maximum use of it and how to take proper care of it. Here, in this article, several tips are being discussed that will give you healthy and bushy Aloe Vera.
TIP 1: Healthy roots will lead to the bushy and strong aloe vera.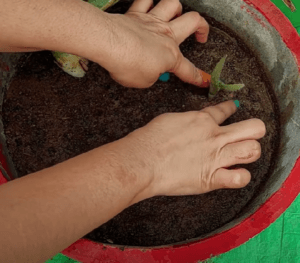 To strengthen the root –
Soil Mixture Should be perfect.

Watering should be balanced, as a succulent overwatering will lead to the fungus, insects, and bacteria in the root. Roots might start decaying also.
TIP 2: Ignorance is bliss, work here.
This plant does not need much attention and care. If sunlight, water, and soil all are perfect then once pups are planted ignore it. It will bloom after some time on its own. Fertilizers and multiple repotting are not required here.
TIP 3: Broad Pots Are Perfect Pots For Aloe vera
Always prefer broad pots, not deep ones for aloe vera because it needs more space to expand. 6-inch deep and 14-inch wide pot or any rectangular-shaped container can opt to sow aloe vera.
TIP 4: Perfect Sunlight
Aloe Vera can be kept in bright light, inside the house, on the work desk. It will survive but will not show enough growth.
For proper and healthy growth, it should be kept in direct sunlight. As much sunlight as possible should be given to this plant for its magnificent growth.
Save it from scorching heat, if the temperature is very high keep it in a shaded area.
TIP 5: Best Growing Season
Aloe vera grows maximum in the month of September end – November end. Autumn is the best growing season for it. So before September take all the necessary measures of fixing the soil, giving fertilizer and all to see its blooming growth.
HOW TO PREPARE SOIL MIXTURE?
Aloe Vera can grow in any soil but being a xerophytic plant it would not grow well in clayey soil, the soil which becomes hard and clayey after giving water 2-3 times only. Hence, the recommended soil mixture should be preferred for aloe vera.
Soil – collect the soil from local surroundings, be it red, black, or brown soil. Sieve it, clean it, and remove all the debris like plastic or glass pieces from the soil.

Sand

– Take grey-colored construction sand in one-third of the quantity of soil.

Compost

– Take any compost (nearly equal to or little less in the quantity of sand).
Coco peat –
Coco peat is not recommended here because aloe vera itself locks sufficient water in it to maintain the moisture level.
If the plant is kept in scorching sunlight for 5-7 hours then add cocopeat (1/4th of the soil).
Neem Cake Powder

– To prevent the fungus, insects, and bacteria in the roots of plants add a little bit of neem cake powder.
Fertiliser –  Aloe vera does not need any fertilizer, moreover once the plant starts growing, there would not be any space for weeding of soil to add manure.
So, if needed only liquid fertilizer can be fed.
Mix all these ingredients properly. You will notice, this soil is very porous and will not become hard or clayey. Moreover, try to bind it with your hand if it is a perfect soil mixture then it will slip out.
This was all about how to take care of aloe vera, how to make it bushy, and how to revive old dying aloe vera. We all can have multiple aloe vera from one pup. So start your factory of planting aloe vera at home only by following all the tips mentioned above.
Happy Gardening!!